Titans

Summer Water Polo Programs



Join the Titans Recreational Summer League @ Carleton University
Ottawa Titans Annual General Meeting
May 29th, 2018 - Message from Ontario Water Polo about Rowan's Law

coaches and trainers (see here)
parents of athletes (see here)
Full Message from Ontario Water Polo.docx
April 28th, 2018 -  The Ottawa Titans Water Polo Club is Hiring


Summer Program Coordinators for East, West, and Ottawa Center
The Ottawa Titans Water Polo club is looking for energetic, outgoing individuals to join the team and support our summer programs! Three are three seasonal positions (between early May and late August) and you will have the opportunity to help with daily club operations in addition to contributing to our annual charity benefit – the Titans Heroes Cup.
Job specifics for each of these positions are available in the following documents:
- Summer Program Coordinator for Orleans (French and English)
- Summer Program Coordinator for Kanata-Carleton (English and French)
- Summer Program Coordinator for Ottawa Center (English and French)
Interested candidates should contact info@titanswaterpolo.ca before Friday, May 4th, 2018.
March 28th, 2018 - GeeGees take home gold in finale of 10th NCWPL season



It was a thrilling end to the NCWPL season with the Ottawa GeeGees narrowly defeating the Titans Semi-Competitive team 7-5 to take home the Memorial Gord Van Tol "Dinger" Trophy. In its' 10th season the National Capital Water Polo League provides a great opportunity for local high level water polo for players and fans alike. The two younger Titans teams faced off for the bronze medal with Titans 2 pulling off the 9-3 win over Titans 1. Congrats to everyone!
2018 NCWPL award winners:
MVP: Jalen Ramsaran
MVG: Jeremy Semotiuk
MVC: Owen Kennedy
All Stars : Derek Meng, Ethan Young, Simon Fabisiak, Robert Djukic, Alexis Cordina
New Stars:  Daniel Gonzalez, Tomas Andrijasevic, Liam Sterne, Jackson Taylor, Owen Carriere, Andrej Gavric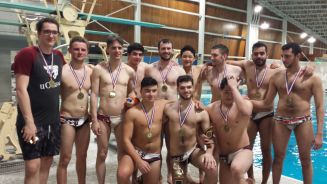 March 28th, 2018 - NCWPL - Clash of the Titans



The NCWPL semi-finals took place on March 7th with the GeeGees and Titanc SC pulling out narrow wins over Titans 1 (7 to 5) and Titans 2 (8 to 6). This sets up the Finals on March 28th as follows:
8:15pm Bronze Medal game Titans 1 vs Titans 2
9:10pm Gold Medal GeeGees vs. Titans SC
For more information on the NCWPL see here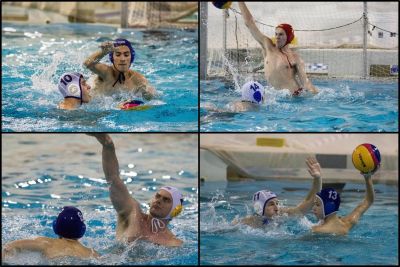 February 25th, 2018 - Titans Cup delivers HUGE experience for Titans athletes



20 Years! What an accomplishment for the Titans Cup and what a celebration we had! Bringing together 4 age divisions once again, (U10/12/14 COED and U18 Girls) this was a fantastic opportunity for over 120 Titans athletes to take part in one of the largest water polo tournaments in Canada. With 25 teams from 8 different clubs hailing from Ontario, Quebec and New Brunswick, the Titans Cup provides a chance for athletes of all calibers to compete in a friendly and sportsmanlike environment. Many experienced their first competitive games, while others continued in the Titans tradition of handing down their own knowledge to these newer players.
A big thanks to Tetyana Gabalis for all of her hard work and dedication, without which this Titans Cup would not have been as successful. We also don't want to forget all of our other volunteers, coaches and of course parents for all their support through this weekend...we're sure your athletes did you proud and made it all worth it!
Until next year.Titans Cup...Go Titans!
For more information including links to pictures, go here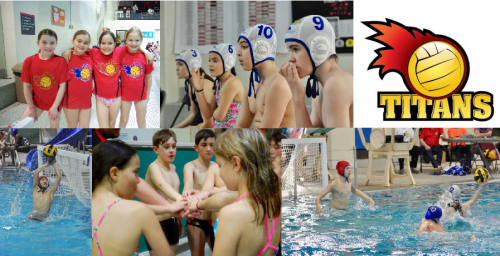 February 12th, 2018 - Academy Boys Win Gold at the Thompson Cup in Hamilton!



On a wild weather weekend the Academy Boys sent an experienced U14 team to Hamilton to compete in the Thompson Cup. The provincial qualifying tournament assembled 8 teams from across Ontario all vying for important Provincials seedings points. The boys started off their tournament by playing 2 of the 3 Mavericks squads. They took the first easily winning 13-1, while the second proved much more difficult, with the Titans ultimately winning 6-4. Sunday morning saw them square off against Hammer with another win, this time 14-5 and they were off to the Final to play Shadow. The boys took a 3-1 lead into the second half and held off a strong Shadow team pulling off the 6-4 Gold medal win. Congratulations to the boys and thanks to Coach Blake once again for his dedicated coaching!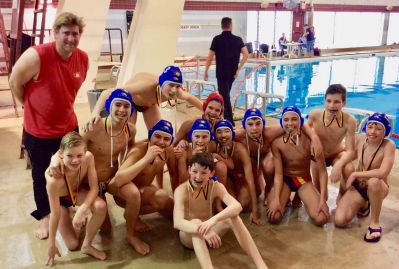 Swim and Play Meet - February 3rd, 2018



The Titans will host their 2nd Annual Swim and Play meet on Saturday February 3rd at 6pm at the Pinecrest Recreational Complex. Special thanks to our Swim and Play instructor Antonio Mendonca for organizing this!
Let's make this year's event even bigger and better than last year's huge success!
II Swim & Play Winter Fun Meet Flyer-1.pdf