November 12th, 2018 -  Great start to NCL season for U16 Boys and Girls



The U16 boys traveled to Montreal this past weekend (Nov 9-11) and had a great start to their NCL season with a 3-3 record through the grueling weekend which included games against defending national champion Mavericks and bronze medalists Montreal Machine. These games were great experience builders and helped propel the boys to impressive one goal wins over both the Scarborough Shadow and CAMO, to go along with their convincing victory against Mavericks DS. Thanks to Andras, Emilia and everyone who helped out for making it such a great weekend all around for the boys and we look forward to their next games in Gatineau in January!

See WPC release here which includes the Titans' own Tomas Andrijasevic making the all-star team!

The U16Girls had a great weekend in Montreal at their first NCL tournament of 2018/19. The athletes demonstrated their perseverance and  commitment to a great season.
October 16th, 2018 - NCWPL Kicks off its 11th Season Tomorrow!



Tomorrow Wednesday October 17th will mark the beginning of the 2018-19 National Capital Water Polo League season. The league consists of 4 teams; the Titans U16 boys, 2 blended Titans teams (U14 And Semi-Competitve), both Furious and Serious, as well as the Ottawa GG's. Find more in formation about the league as the season goes on at the following link:
NCWPL
Congrats again to our 2017-18 winners, the Ottawa GG's!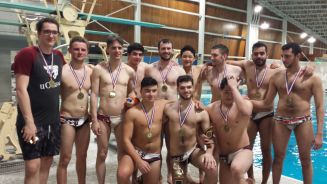 July 2018 - Titans boys going with Team Ontario to Greece



Congratulations to Titans U16 players Simon, Robert, Andre, Jalen and Ethan for being selected to Team Ontario. These talented young athletes are headed to Greece under the leadership of our Coach Owen Kennedy. You make us very proud boys! Good luck and have fun!
Titans

Summer Water Polo Programs



Our regular season may have come to an end but there will be plenty of water polo opportunities in the Summer months:
Free water polo sessions offered to young girls and boys (ages 5 and up) across the city at outdoor and indoor pools – details available at this page.
Titans Recreational Summer League @ Carleton University (ages 14 and up) – details available here.
Join the Titans Recreational Summer League @ Carleton University
Registration for the Summer League is NOW OPEN.  The Titans are delighted to take over responsibility for this very popular league which is in its 39th edition!   To learn more about the league and to register, please go the our Programs page or click here. 
Ottawa Titans Annual General Meeting
All members (athletes, parents, and coaches) are welcome and invited!
Sunday, September 16th, 2018 at 2:00 PM to 4:00 PM
Ottawa Public Library Main Branch - Auditorium, 120 Metcalfe Street, Ottawa, ON - (map)
June 11th, 2018 - U12 Titans take 4th place at Provincials



The U12 Titans provincial team did the club proud this past weekend with a fourth place finish at Provincials. They won their first three games against K-W Inferno, Shadow Tigers and Mavericks Colts with great team play and excellent energy as well as fantastic coaching from Owen Kennedy and Liam Dale.
The team had a tough Saturday against Maverick Mustangs and Shadow Lions  but rallied and showed up in full force for the bronze medal game against the Maverick Broncos. At no point was there more than a one goal difference, with the game eventually going to a shootout where the Broncos prevailed 10-8.
The progress and the cooperation of the players was outstanding. Between games, they even managed a Birthday celebration for Felix Joly.
It really bodes well for the future U14 team.A big shout out to Janice Dale for taking the lead and organizing all of us.
Congratulations team!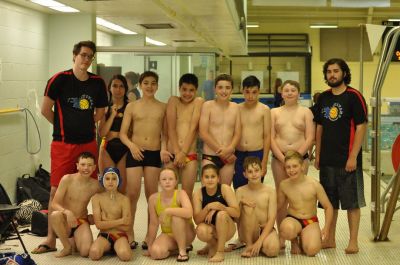 June 2, 2018 - Annual Awards Banquet a Fitting end to Another Great Season!



This past Saturday, Titans young and old, gathered once again for the Annual Awards Banquet, with this year's festivities taking place at the Nepean Sportsplex.
While the banquet marks the end of another successful season for all of our athletes, a special mention goes out to our Ottawa Titans Outstanding Athletes of the Year, Julia Decaire and Bogdan Djerkovic!
Check out this video commemorating the evening put together by one of our own parents Eduard Romanov (see video here).
Congratulations to all of our athletes and we look forward to seeing you all back next year!
Ottawa Titans Coach of the Year Award: Blake Christie
Titans Team of the Year Award: Ottawa United Titans MLWP
Ottawa Titans Outstanding Female Athlete of the Year: Julia DeCaire
Ottawa Titans Outstanding Male Athlete of the Year: Bogdan Djerkovic
Ottawa Titans Most Valuable Goalie: Boris Frlic; Teodora Vukojevic
Offensive Player of the Year: Alicia Morewood; Ivana Cugalj; Danielle Hirsh;Simon Fabisiak; Milan Duhaime; Jonathan Ruse; Tomas Andriasevic; Saari Mclellan
Defensive Player of the Year: Madison Gordon; Ana Milinkovic; Katie Allerton; Jalen Ramsaran; Diego Gonzalez; Aleksa Gardijan; Andrej Gavric; Maria Vukojevic
Ottawa Titans Academy Team Spirit: Jackson Taylor; Rachel Olsen
Ottawa Titans Sportsmanship Award: Abigail Valerio; Lara Dale; Noah Parks; Robert Djukic; Liam Sterne; Shelby-Marie Lalonde; Suzana Medjovic
Best New Female of the Year: Maya Dekker
Titans Waterpolo Volunteer of the Year: Boris Dzerdz
Titans ILWP Volunteer of the Year: Karine Dulude
ILWP Spirit Award: Coulson Wheatley; Emma O'Connell
ILWP Female Player of the Year: Darquise Trottier
ILWP Male Player of the Year: Maxim Zaynullin
S&P Spirit Award: Arkan Krebs; Khadeeja Hamdy
WF Spirit Award: Emmett McNeill; Lilian Holmes
May 29th, 2018 - Message from Ontario Water Polo about Rowan's Law

To help member clubs with the management of concussion, Ontario Water Polo has a concussion policy that may be used as a reference for your own policy and procedures.  The policy can be found here.  This policy was developed by OWP and reviewed and approved by the Ontario Ministry of Tourism, Culture and Sport.  The policy does contain great resources for member clubs including general information from the Coaching Association of Canada for:
coaches and trainers (see here)
parents of athletes (see here)
Full Message from Ontario Water Polo.docx
April 28th, 2018 -  The Ottawa Titans Water Polo Club is Hiring


Summer Program Coordinators for East, West, and Ottawa Center
The Ottawa Titans Water Polo club is looking for energetic, outgoing individuals to join the team and support our summer programs! Three are three seasonal positions (between early May and late August) and you will have the opportunity to help with daily club operations in addition to contributing to our annual charity benefit – the Titans Heroes Cup.
Job specifics for each of these positions are available in the following documents:
- Summer Program Coordinator for Orleans (French and English)
- Summer Program Coordinator for Kanata-Carleton (English and French)
- Summer Program Coordinator for Ottawa Center (English and French)
Interested candidates should contact info@titanswaterpolo.ca before Friday, May 4th, 2018.
April 15th, 2018 - Silver for U14 Boys at Provincials!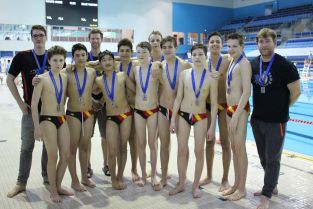 Congratulations to the Titans U14 Boys who took home silver at this past weekend's Provincial tournament. Seeded 3rd headed into the tournament, the boys used their experience and training, throughout the weekend, to secure 2nd place.
After two easier wins to start the weekend over Mavericks 3 & 2 (22-2 and 17-1) the boys faced the powerful Scarborough Shadow team in a game that would decide the semi-final match-ups. Down 4-0 early, the boys showed their experience and fought back for a huge 11-9 win. This pitted the boys against Southwest later that evening in a game that got off to a slow start but had the Titans eventually pulling away for the 16-6 victory. Sunday brought the Gold Medal game against the Mavericks number one team, but despite having an early lead, the boys took silver after a hard fought 6-4 loss. Next up for the boys are Eastern Nationals in May with sights again set on Gold!
The Titans also sent a younger boys squad, who despite their youth showed great courage and will have gained invaluable experience after playing teams older and bigger than them. The Girls team was in for a tough battle with several strong experienced squads present, but they fought valiantly with their best effort coming in the bronze medal game which was close up until the 4th quarter when KW scored a few quick goals. The girls are also headed off to Montreal in May to cap off their year.
Congrats to all our athletes and good luck in Montreal!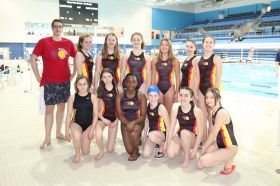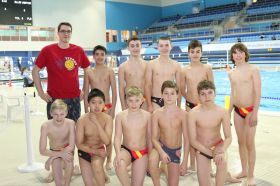 March 28th, 2018 - GeeGees take home gold in finale of 10th NCWPL season



It was a thrilling end to the NCWPL season with the Ottawa GeeGees narrowly defeating the Titans Semi-Competitive team 7-5 to take home the Memorial Gord Van Tol "Dinger" Trophy. In its' 10th season the National Capital Water Polo League provides a great opportunity for local high level water polo for players and fans alike. The two younger Titans teams faced off for the bronze medal with Titans 2 pulling off the 9-3 win over Titans 1. Congrats to everyone!
2018 NCWPL award winners:
MVP: Jalen Ramsaran
MVG: Jeremy Semotiuk
MVC: Owen Kennedy
All Stars : Derek Meng, Ethan Young, Simon Fabisiak, Robert Djukic, Alexis Cordina
New Stars:  Daniel Gonzalez, Tomas Andrijasevic, Liam Sterne, Jackson Taylor, Owen Carriere, Andrej Gavric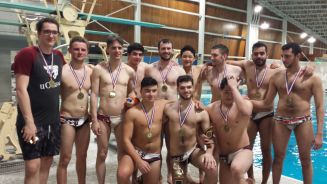 March 28th, 2018 - NCWPL - Clash of the Titans



The NCWPL semi-finals took place on March 7th with the GeeGees and Titanc SC pulling out narrow wins over Titans 1 (7 to 5) and Titans 2 (8 to 6). This sets up the Finals on March 28th as follows:
8:15pm Bronze Medal game Titans 1 vs Titans 2
9:10pm Gold Medal GeeGees vs. Titans SC
For more information on the NCWPL see here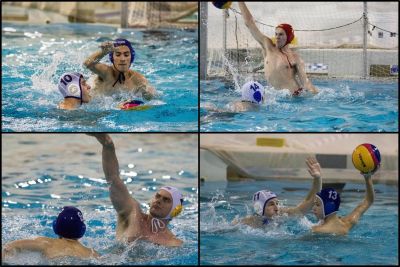 March 25, 2018 - Major League Silver at Nationals!



In their third NCL season the Titans' Senior Men's team succeeded in reaching the podium winning Silver at the elite Canadian Water-polo Championship, that was held in Montreal on March 23-25.
In the quarter finals Ottawa United Titans Black went up against the Mavericks and took an early 4-0 lead then held on strong for a 6-3 win.Their semi-final opponent were the Calgary Torpedoes, a powerhouse  filled with current and former Senior National Team players. The Titans started the game as they had all weekend, netting 4 consecutive goals in the first half. The Torpedoes answered back at the beginning of the third quarter, but Ottawa's goalkeeper, Boris Frlic kept a cool head under fire and made some great saves to help his team qualify for the Gold medal game.
This set the stage for the Montreal Thriller, a sight that had not been seen for a while. The Titans squared off against Dollar Black, a team that once again featured a roster with familiar names from Canadian National Team including former Olympian Justin Boyd (the tournament MVP). In an evenly played game, Titan Jonathan Ruse scored the equalizing goal with 0.7 second left on the clock to tie the game at 9. This was followed by loud cheers from the Titans contingent in the stands who had traveled from Ottawa to support their team in their final game. The first round of penalty shots was not enough to determine the winner, with both teams scoring on 4 of 5 shots. It took a golden goal shot to clinch victory for Dollard in the end.
Titans' coach Andras Szeri was named the Most Valuable Coach of the tournament! Well done everyone and thanks for making us all proud!
February 25th, 2018 - Titans Cup delivers HUGE experience for Titans athletes



20 Years! What an accomplishment for the Titans Cup and what a celebration we had! Bringing together 4 age divisions once again, (U10/12/14 COED and U18 Girls) this was a fantastic opportunity for over 120 Titans athletes to take part in one of the largest water polo tournaments in Canada. With 25 teams from 8 different clubs hailing from Ontario, Quebec and New Brunswick, the Titans Cup provides a chance for athletes of all calibers to compete in a friendly and sportsmanlike environment. Many experienced their first competitive games, while others continued in the Titans tradition of handing down their own knowledge to these newer players.
A big thanks to Tetyana Gabalis for all of her hard work and dedication, without which this Titans Cup would not have been as successful. We also don't want to forget all of our other volunteers, coaches and of course parents for all their support through this weekend...we're sure your athletes did you proud and made it all worth it!
Until next year.Titans Cup...Go Titans!
For more information including links to pictures, go here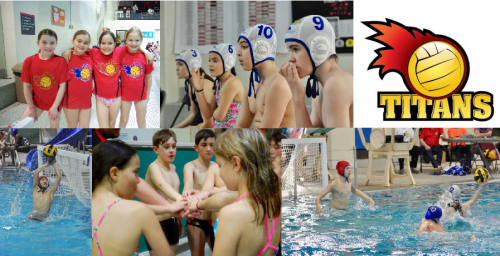 February 12th, 2018 - Academy Boys Win Gold at the Thompson Cup in Hamilton!



On a wild weather weekend the Academy Boys sent an experienced U14 team to Hamilton to compete in the Thompson Cup. The provincial qualifying tournament assembled 8 teams from across Ontario all vying for important Provincials seedings points. The boys started off their tournament by playing 2 of the 3 Mavericks squads. They took the first easily winning 13-1, while the second proved much more difficult, with the Titans ultimately winning 6-4. Sunday morning saw them square off against Hammer with another win, this time 14-5 and they were off to the Final to play Shadow. The boys took a 3-1 lead into the second half and held off a strong Shadow team pulling off the 6-4 Gold medal win. Congratulations to the boys and thanks to Coach Blake once again for his dedicated coaching!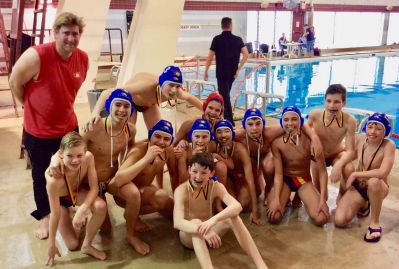 Swim and Play Meet - February 3rd, 2018



The Titans will host their 2nd Annual Swim and Play meet on Saturday February 3rd at 6pm at the Pinecrest Recreational Complex. Special thanks to our Swim and Play instructor Antonio Mendonca for organizing this!
Let's make this year's event even bigger and better than last year's huge success!
II Swim & Play Winter Fun Meet Flyer-1.pdf