Titans Heroes Cup raised over $4,000!
Titans Heroes Cup is a charity water polo event that celebrates first responders, and promotes healthy living style for the benefits of children. The third Titans Heroes Cup was held at Mooney's Bay beach in Ottawa, on July 18, 2015 and was filled with number of familiy beach activities, including........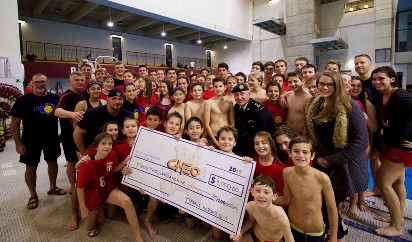 Titans athletes in National Team Age Group program
Congratulations to Titans athletes on being named to the 15U Boys' National Team Age Group programs
Djerkovic Bogdan Titans (ON)
Gonzalez Diego Titans (ON)
ALTERNATES
Cugalj Nikola Titans (ON)
Nadeau Simon Titans (ON)
Congratulations to Titans athletes on being named to the 17U Men's National Team Age Group program.
Duhaime Milan 4/5 side 1999 Titans (ON)
Congratulations Titans athletes on being named to the 20U Men's National Team Age Group program.
Matic Filip 97 Ottawa (ON)
Scoffield Euan 97 Ottawa (ON)
Gardijan Aleksa 97 Ottawa (ON)
Titans bring home bronze at U16 NCL Eastern Championships finals
Congratulation to U16 boys for an incredible year in NCL and probably one of the best games that spectators could see through NCL season at semifinals against DDO. After an incredible comeback from 6:10 in 4th quarter, Titans boys were able to tie the game with 10:10, but there was no luck in second round of shootouts. This year, U16 boys finished third in Eastern conference, right after Camo and DDO teams. Titans Milan Duhaime and Bogdan Djerkovic were named to All Star Team. Congratulations and GO TITANS!!!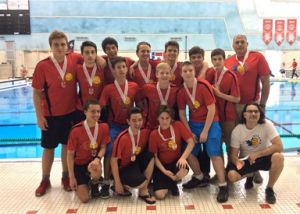 Congratulations to John Conway!
John Conway, an ex-Titan, has graduated from University of Calgary in April 2015 with a Bachelor of Commerce and a concentration in energy management. He has taken a 4 course load ​in several semesters concurrently with the heavy demands of his 2 daily water-polo practices.
John was awarded overall top scorer in the 2015 Union of the ​Americas Cup and was the 2nd overall top scorer in the recent FINA Intercontinental Tournament qualifier for the World League.
John looks forward to participating in the upcoming 2015 July PanAm Games in Toronto and ​is ​hoping to qualify for the 2016 Rio de Janeiro Olympics. John played in the last 2011 PanAm games in Guadalajara, Mexico where Canada got the silver medal.
John is also looking forward to his participation to the World Cham​p​ionship​s ​this summer in Kazan, Russia. John has played in two previous World Championships: Barcelona, Spain in 2013 and Shanghai, China in 2011.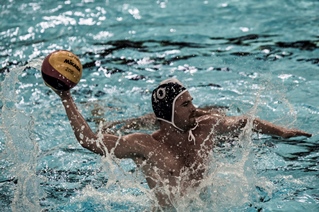 Gold for senior Titans
On April 25/26 two Titans senior teams went to Montreal to compete in the Tiburon water polo tournament in the rec AA and A divisions.  The teams were a coed mix of Titans, GGs and Ravens players (many of the GGs and Ravens are ex-Titans).  The Titans AA team had many hard fought wins with close scores and managed to bring home Gold in the top division of the tournament with a score of 9-8 in the final.  Andrew DiPerna (Raven, ex-Titans player and current Titans coach) was voted MVP by his team mates.  The A team had some great moments but were struggling against a very physical style of play being allowed by the referees. Everyone had a great time socializing in Montreal Saturday night and we hope to make it back for the tournament once again next year. (Photo of AA team taken by Yew Lee).
Ottawa Titans bring home silver from 2015 U14 Provincials
Congratulations to Ottawa Titans team gold for wining the silver medal at Kitchener Waterloo 2015 U14 Provincials. This time, Titans sent three teams with some players not even 11 years old, but they were all able to stand against much stronger and bigger teams. It was a great weekend in Waterloo and great experience for our Academy players.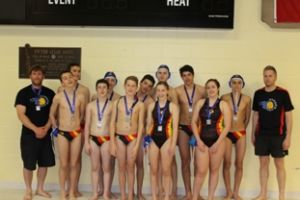 Go TITANS!
Titans U18 Men win gold at 2014 Provincial Championships
Congratulations to Euan, Filip Matic, Victor and Yorek for being named to the All Star Team and to Yorek for being awarded Most Valuable Goalie. Euan earned the tournament Most Valuable Player. Well done Titans!
Gamesheets, results and final standings
Ottawa Titans goalie Lotte Hurrelmann golden at Women Senior Nationals
At the Women's Senior Nationals on March 27/28, Titans goalie Lotte Hurrelmann played with the Camo Blanc team. After a well-played semi-final (8-4) against the Toronto Jets; Lotte continued to play as starting goalie in the finals where her team took gold against Camo Bleu (8-7). It was an intense match with many opportunities for Lotte to showcase her skills. All in all it was a successful Major League season for Lotte, who was one of the youngest players on the team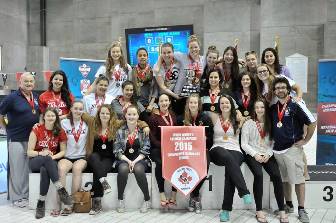 NCWPL 2014-2015 Finals
It was a great night for National Capital Water Polo League on March 25th at Nepean Sportsplex. Senior 2 played a bronze medal game against GeeGees, and Titans1 played an amazing game against Senior 1 team. Better performance and skill level was a key to win for both GeeGees and Titans 1.
NCWPL 2014/2015 Final standings
Titans2 - Gold
Sen1 - Silver
GGs - Bronze
Sen2 - 4th
Titans1 - 5th

MVP- Raphael Siegel
MVG- Laurent Brosseau
MVC – Ben Bouwers
All Star – Bogdan Djerkovic
All Star – Dmitry Prokoptsov
All Star – Milan Duhaime
All Star – Mihajlo Krstic
All Star – Stewart Clelland

New Star - Diego Gonzales
New Star - Noah Parks
New Star - Harrison Young
New Star - Raffi Ohanian
New Star - Mauro Diaz
New Star - Nikola Cugalj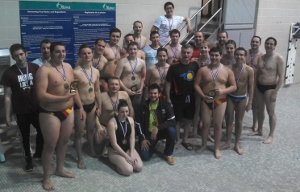 Ottawa Titans athlete playing for German National team
Titans goalie Lotte Hurrelmann participated in the U17 European Championship Qualification Tournament on March 13-15, 2015 with the German Junior National Team. Following a centralization in Becej, Serbia, the team traveled to Belgrade where they placed first in their group after playing Romania (13-4), Croatia (9-8) and Serbia (9-9). Lotte is now preparing for the European Championships in Baku/Azerbaijan in June 2015.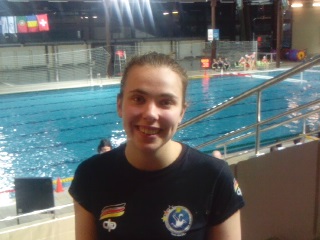 Ottawa Titans athletes receive two awards at the 2014 edition of the Ottawa Sports Awards!
A sold out crowd of over 625 packed into Algonquin College on Wednesday, Jan. 28 for the 62nd-annual Ottawa Sports Awards banquet to celebrate the finest in local amateur sports.
Euan Scoffield received the individual sport award and Ottawa Titans 18U Boys' Water Polo Team received award for their 2014 Provincial and National Championship titles 
Congratulations and GO TITANS!
Titans U14 Girls at CAMO Omnium tournament

For the first time in many years the Titans sent a U14-girls-only team to a tournament. It was a mixture of our veterans (Madison and Juliana), players with some tournament experience (Trinity, Teoadora, and Ivana) and players attending their first tournament ever (Ana, Harsimran, Lianne, and Hannah). Our brave coach Rachel did not only encourage them during their games but also at their self-esteem pizza party.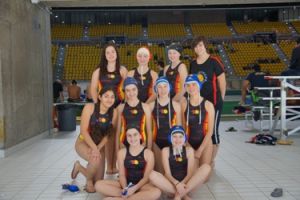 Titans at Bytown Invitational Tournament

Busy weekend at Carleton University. Twelve teams from Ottawa, Gatineau, Guelph, Hamilton, Toronto. Senior Titans entered the tournament as a team but many Titans players were present in other teams as well (VK Mladost, Ravens, GGS, Senior BC.....) Our Titans girls,  Lotte, Elizabeth, Molly and Alicia participated in the Bytown tournament as a great addition to the Ravens team. Coach Victoria managed to blend her Ravens and Titans well. GO TITANS!!!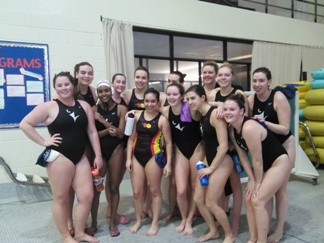 Former Titans Athletes Selected for Canada's Senior National Team

We are extremely proud to announce that Alec Taschereau, John Conway, David Lapins and Jessica Gaudreault, all former Titans athletes, have been selected to represent Canada at the upcoming 2015 UANA Cup, the world championship qualification tournament to be held at the new Atom Markham Pan Am Centre (January 28 - February 1) read more at Water Polo Canada
16U NCL Eastern Conferences Updates: Games in Gatineau

NCL Weekly Notes: January 13 to 19, 2015....The other major event of the weekend was a 16U event in Gatineau held at the beautiful Gatineau Sports Centre. 10 games were played over Saturday and Sunday between the local Ottawa/Gatineau teams and the visitors from Montreal. The most exiting games of the weekend were no doubt played between the trio of 16U boys' teams fighting for the conference lead, CAMO, Dollard, and the Ottawa Titans. Those teams combined have yet to lose a game to one of the other four teams in the division. The games between them are crucial in determining the overall standings, and they did not disappoint. The three games played between these teams resulted in two draws (Dollard 17- Titans 17, CAMO 10 – Titans 10), and a one goal victory (CAMO 12 – Titans 11). As only two of Dollard, CAMO, and Titans can qualify for the National Finals, the Eastern Finals in May seem sure to provide excellent drama.16U . Full NCL weekly notes.